"Henning Hoffmann "passed the test" with us the day he dared to challenge and reinvent himself. An exceptionally good shooter and instructor, he went back to the basics again, and stripped himself of everything not essential. We have seen him hit man-sized targets standing at 600 m with a rifle and 100 m with a pistol... But more important is his ability to impart knowledge to others. He can teach, and has his students improve their skills vastly."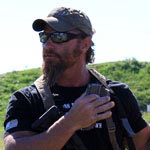 "Henning has a firm grip (pun intended) on the fundamentals and the ability to convey a thought that is palatable to the intended recipient. His skills and calm demeanor are what one would hope for when seeking firearms instructions. He is capable of working with a diverse skill set disparity, therefore, regardless of your capability level, you will no doubt see an increase in your marksmanship prowess."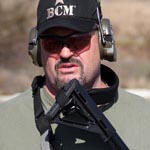 "Henning has went above and beyond to train with many of the leading firearms instructors in the USA- including myself. That puts him in a unique category and would be a top choice for firearms training."

Combat Shooting and Tactics (CSAT)
"Henning will provide you with an exceptional class and training experience."

"With an excellent understanding of state-of-the-art techniques and tactics, Henning Hoffmann is certainly one of the top firearms instructors in the world, let alone in Europe."
"Henning has trained at the finest places in the United States including my own school many times. He is a professional shooter and excellent tactician. I recommend his training without reservation and I would venture to say he is the finest Instructor in Europe."

Bluff Dale Firearms Academy
"Henning impressed from the moment I met him with his cool-headed ability to not only perform difficult tasks on demand, but also his ability to teach others how to effectively accomplish the same. There are a lot of top-level firearm practitioners in the world, but not that many that can teach others how to perform at a high level. Henning is one of those guys that can do both."